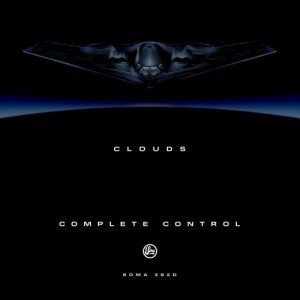 Buy 12″: www.somarecords.com/shop/music/soma_382/
CLOUDS | Complete Control
[SOMA382]

1. Complete Control
2. 3Talisman-Class Destroyer
3. 39.844 g_mol
Young Techno upstarts Clouds debut their hard an aggressive sound on Soma with the 'Complete Control' EP. 2013 has been a fast paced year for the two Scottish natives that has seen them release their debut album on Tiga's Turbo Recordings plus a host of top quality singles to critical acclaim. Their razor sharp production that fuses elements of Techno, Rave and UK Bass music has garnered attention from many of electronic music's biggest names. Their first Soma EP displays maturity in style as they unleash 3 ferocious Techno weapons.
'Complete Control' tears the EP open. A chopped and noisy beat is bent round slashing, white noise covered drums setting the tone for this beastly release. A hint of restraint is brought about however as a droning vocal sample pulses from beyond allowing a momentary rest bite from the upcoming onslaught of machinegun snare patterns and intense drum workouts.
3Talisman-Class Destroyer does exactly what it says on the tin. A typically powerful Clouds kick sounds off while clanking, industrial percussion keep the rhythm perfectly. Another well-used vocal cut adds to the groove and the percussion begins to step a notch with hollow drums going into full attack mode.
39.844 g_mol polishes of the EP in even more devastating fashion. Sent straight from the darkness, this track bursts into our reality with deadly force. Driving sub bass, stuttered rhythms and distorted percussion, typical of Clouds is all there.
Clouds are definitely making their mark on the current Techno scene with their blistering tunes that pull no punches. This dynamic duo are a welcome addition to the wealth of Scottish Techno exports.
Mastered by Conor Dalton at Glowcast Audio Mastering