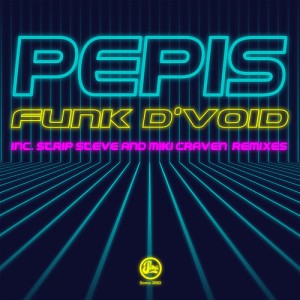 Mastered by Conor Dalton @ Glowcast Mastering
Funk D'Void | Pepis
[SOMA399d]
1. Pepis
2. Pepis (Strip Steve Basement Mix)
3. Pepis (Miki Craven Remix)
Back on Soma with an almighty bang, legendary producer Funk D'Void returns with his first original, solo material in 7 years with Pepis. Forever held in the highest of regards, Lars Sandberg is one of the most influential DJs/Producers to come from the early ranks of Soma's roster with a glowing list of past credits. With his latest offering, Pepis, FdV ups his game even more and delivers a rocking house track, soaked in his signature style. The EP is further bolstered by a jacked up remix from Boys Noize's Strip Steve and things take a heavier edge as Miki Craven turns in a banging Techno remix.
Kicking off a straight up party vibe, Lars' bouncing percussion keeps the groove as lazer like stabs and pads sweep though over the top of the track's infectious, melodic lead. Going into the break, Lars uses a perfectly toned sample that gives Pepis a real summer vibe dropping the drums to devastating effect. This track is a shining example of Funk D'Void's intimate knowledge of what will immediately funk up a dance floor.
French born, Berlin based Strip Steve steps up with his remix next and immediately hits the ground running. Picking up the pace a little compared to the original he adds a more 'Chicago' feel to the tracks, chopping up the lead and bringing more of a jacking feel to the percussion. Quirky breaks in the drums keep the track flowing nicely as claps and snares flourish with woodblocks giving it that old school feel.
Miki Craven polishes off the EP with a completely stripped back Techno version. Big heavy subs and kicks are the order of business here as a pretty punishing loop belts out from the beginning. Miki works some of the vocal cuts that hover around the backbone of the tracks as cutting high-end percussion keeps the track rattling. Miki lightens things momentarily as he works in the original stabs whilst keeping his version in the Techno tool division.
Nothing makes us smile more than having one of the greatest names in Soma's history making his comeback and showing why he will always be held in hearts and dance floors across the world.