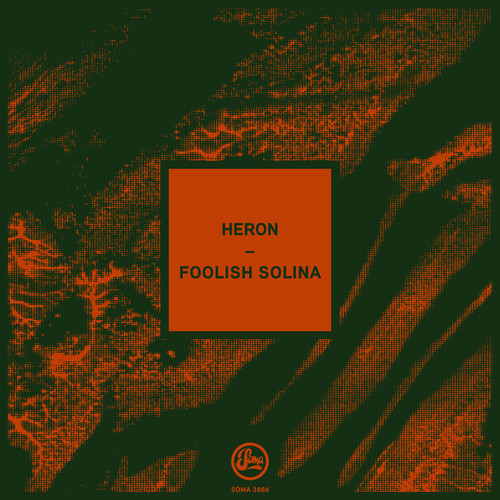 HERON | Reborn
[SOMA366D]

1. Reborn (Instrumental)
2. Foolish Solina
Heron's first release with Soma is a single that brings a new and different sound to the label that is both interesting and engrossing. "Reborn" incorporates motifs and style drawn from various genres with wobbling bass and deconstructed rhythm sections influenced by certain areas of bass music. This convergence of distinctive forms helps the EP to maintain a dynamic structure with layers added sequentially and separate elements given their own focus throughout.
Title track 'Reborn', follows the ingenuity represented throughout the EP combining various different elements. The track opens up with bold, bouncing rhythm matched well with the distinctive repetition of the bassline. Again these elements are carried on a wave of hi-hat and metallic rhythm which gives the track a recognisable edge. Coupled with the sharp synth line the track conveys an industrial feel and moves to slightly darker areas. The interplay between elements maintains a strong dynamic with rhythm parts subsiding to highlight the synths and effects being brought to the fore amongst well balanced interplay.
Foolish Solina finishes off the EP with a perfectly old school feel. Deep pads open quickly followed by a bassline reminiscent of Saunderson-era techno. A stomping 909 kick flashes in alongside crisp ride cymbals as electronic fluctuations give this track a unique progression finally unloading a full assault from the 909 as the track moves into overdrive.
This is a single that develops a new sonic avenue for Heron and Soma as the artist encompasses a busier and more prominent style.
This EP was mastered at Glowcast Audio Mastering Studios in Glasgow, Scotland, by mastering enginner and owner, Conor Dalton.