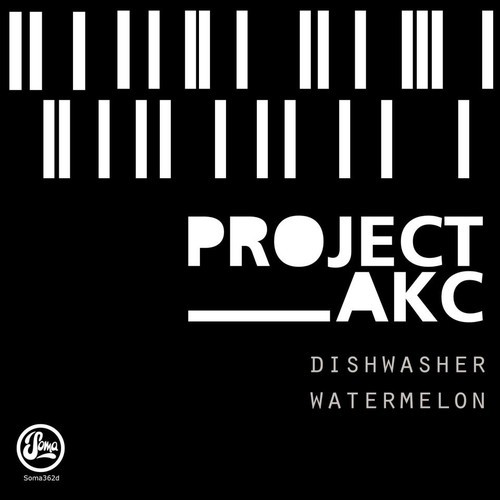 PROJECT AKC
Dishwasher/Watermelon Ep
(Soma 362d)
1- Dishwasher
2- Watermelon
Mastered at Glowcast Audio Mastering by Conor Dalton.

New addition to the Soma roster Project AKC has seen notable exposure throughout the last year with his tracks being played extensively in Space last summer and championed by Adam Beyer and Slam across Europe. It is easy to see why these tracks are such a hit when played out because their powerful style is immediately imposing. There are two tracks on this Project AKC EP and both make a strong statement as to the direction of the artist. The first track is Dishwasher and from the offset there is a deep, resounding beat underpinning the whole track, which, plays off the more detailed percussion elements.
This track draws you in from the start and is immediately engaging and powerful. The unique and unnerving vocal line serves to add depth and feeling to the whole track with the vocals echoing off into the distance. The individual elements circle around together building and building until they burst through in the last 90 seconds of the track powering through to the end with everything balanced, forging a potent and complete whole. Watermelon is the next track on the Project AKC EP and continues with the big, billowing sound. There are metallic elements to the tone of the synth hits, which whirl around at intervals throughout the track. Coupled with a deeper, darker ambience these aspects offer a more industrial and starker feeling to the track, catapulted forward with great determination again by the strong rhythmic sense. Both these tracks create a full-on and impressive debut EP on Soma, showcasing impressive production skill and a sound understanding of how tracks might be played in the live setting.