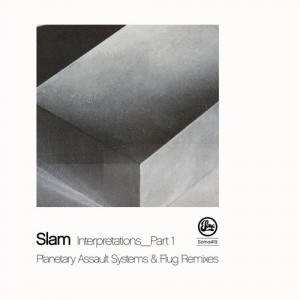 Slam | Reverse Proceed Interpretations 1
Planetary Assault Systems & Flug Remixes
[SOMA419D]
1. Factory Music [Planetary Assault Systems Remix] 2. Factory Music [Flug Remix]
In the first in a series of special EPs form Soma, UK Techno pioneer Luke Slater, under his Planetary Assault Systems guise, joins rising star Flug to provide their own interpretations of tracks taken from Slam's amazing new LP, Reverse Proceed.
P.A.S drops his interpretation first and his unique, twisted, techno vision shines through almost immediately and thunderous drums belay a cacophony of intense, siren like synths as Luke deafens with intent with his rhythmic prowess. After this unrelenting synth workout, things get more heads down as subtle hi hats keep things on the upturn. Luke delivers a seriously monster remix, typifying the P.A.S sound
Argentinean born, Barcelona based Flug definitely hold his own as he comes crashing in with his very own monster remix of Factory Music. Using the original tracks twisted sequence, he easily makes it his own. Adding his explosive drum patterns all building towards one almighty drop allowing him to rebuild the tension that he does to great effect.
Soma brings two levels of experience to this first Interpretation package and both deliver with frenzied results.
Mastered by Conor Dalton @ Glowcast Mastering