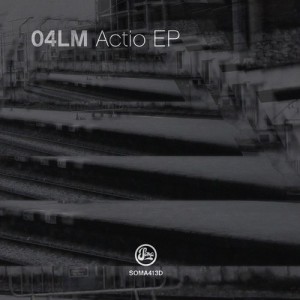 04LM – Actio Ep
(Soma 413d)
1. Actio
2. Pactus
3. Industain
4. Pru
Recent Soma addition 04LM makes a storming return to the label with his 2nd release the Actio EP. 04LM aka Oswld's has been working tirelessly on his follow up to his debut EP on Soma that was championed by a host of underground names and he firmly makes his mark with this melodic yet tough EP.
Title track Actio floats in gently at the beginning of the EP. Straight up kicks and highs start of a groove while a simple melody starts to make its way, fleetingly through the heart. Tense strings glide over the back bringing chills up the spine as 04LM eases us gently into this 4 tracker
Pactus immediately steps things up a notch. Thumping kick sit across hollowed out wood tones, with fierce percussion keeping the pace moving. This track was obviously built with the warehouse vibe in mind as calamitous drums hits fill with space and give this a fairly ominous demeanour.
Industain keeps the heavy techno vibes going as once again, 04LM kicks things off at an explosive start. Sharp, resonated synths give this powerhouse a little melody but the ferocity of 04LM drum programming in the track gives rise to one hell of a Techno outburst
Rounding things off 04LM goes down the more haunting, melodic track with Pru. Another tough, solid groove rocks the foundations here as subtle melodic hints drift around gently in the back. Eventually taking quite a distorted trip as things get going, 04LM still retains his identity throughout
Oswld's 04LM alias is definitely making waves within the scene at the moment with his unique fast paced Techno
Mastered by Conor Dalton @ Glowcast Mastering