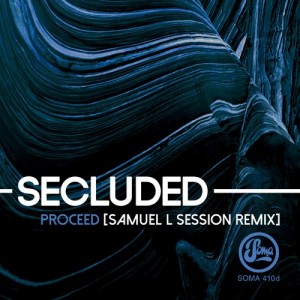 SECLUDED | Proceed (inc Samuel L Session Remix)
[SOMA410d]
1. Proceed
2. Focus
3. Proceed (Samuel L Session Remix)
Glasgow's own Hans Bouffmyhre returns for his third outing on Soma under his Secluded EP with Proceed. Aimed more at the deeper end of Techno, the young producer keeps things dark and heavy with this alias and is no stranger to top notch Techno releasing a multitude of big room numbers though his own prolific Sleaze label among others. Proceed serves up two more chord driven monsters backed with an incredible Samuel L Session remix.
Secluded's original version of Proceed gets things moving at an incredible pace as earth shattering drums rock in but almost instantly Secluded shows the deeper side this alias is known for as space like pads bring things back down to earth with rhythmic stabs keeps everything in check. Slowly the build begins in Detroit-esq minimalistic fashion before ride cymbals crash in, taking things up a notch. Proceed retains a solid groove throughout and really opens the EP with intent.
Focus serves up yet more delectable deep Techno with more emphasis on big, powerful chords. An effective DJ tool, Secluded works in slashing percussion to great effect while the distinctive chords keep the track driving through big drops.
Masterful Swedish producer Samuel L Session, who is no stranger to Soma, turns in a suitably big remix on Proceed. Samuel's unique production style is quick off the mark as big and bouncing low end makes way to looped out, resonating chords that gently sweep their way in allowing subtle percussion the space needed to keep thing flowing rhythmically. Samuel really makes this remix his own with his refined production and delicate builds.
Another Storming EP form the young Glasgow based producer who looks to be taking his Secluded live show on the road very soon
*Mastered by Conor Dalton @ Glowcast Mastering