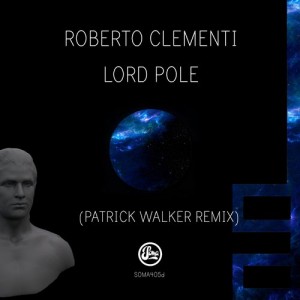 Roberto Clementi | Lordpole (inc Patrick Walker Remix)
[SOMA405]
1. Lordpole
2. Lordpole (Patrick Walker Remix)
3. Didier
Roberto Clementi has firmly cemented himself in the Soma hall of fame. His debut album has been doing the damage as his signature meld of deep, trippy Techno & Electronics washes over the globe he is back with yet more of his top drawer production. Clementi toughens up this time with Lordpole that gently glides between the worlds of Dub & Techno. We are also happy to see a debut on Soma from one half of Edinburgh born techno outfit Forward Strategy Group, Patrick Walker.
Title track Lordpole is a typically chord driven, sub bass monster from Clementi. His perfectly crafted stabs are overlaid with just the perfect amount of reverb and delay to bring them to life, reminiscent of early Chain Reaction dub infectious melody. Roberto keeps the momentum going through pulsing kicks and razor sharp percussion
FSG's Patrick Walker steps up next with his interpretation of Lorpole and keeps the vibe on the up and up! Clementi's original is given a proper Techno workout by the Edinburgh native as he produces an all out stomp. The chords become more punishing and the percussion more subtle and a rocking kick drum destroys anything in its path.
The EP is rounded off in perfect fashion as Roberto drops things down with the Dub Techno excursion of Didier. Tripped out synths and pads melt slowly around the track as pulsing sub bass round off the bottom end keeping a tightly produced deep Techno track in tow. Again, Clementi's subtle use of percussion gives this a perfect late night or early morning vibe but this track is made by his expert use of effects on the synths. Swathes of reverb and delay produce perfect rhythmic elements in this understated EP closer
Clementi never ceases to strive for perfection in his productions and balances his love of deep, organic music with more edgy Techno elements perfectly.
*Mastered by Conor Dalton @ Glowcast Mastering