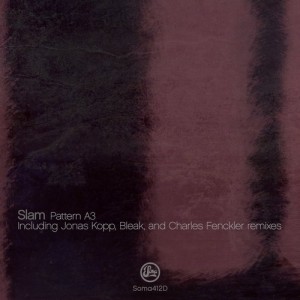 SLAM | Pattern A3 (inc Jonas Kopp, Bleak & Charles Fenckler Remixes)
[SOMA412D]
1. Slam – Pattern A3
2. Slam – Pattern A3 (Jonas Kopp Remix)
3. Slam – Pattern A3 (Bleak's Modular Interpretation)
4. Slam – Pattern A3 (Charles Fenckler Remix)
The first single to be taken from Slam's truly astounding upcoming album 'Reverse Proceed' sees the hypnotic Pattern A3 alongside some of Techno's biggest and brightest new stars adding their own versions also.
Slam have chosen one of the major standout tracks from Reverse Proceed to set the tone prior to the album's full release in late October. With the album built around the concept of varying sequences, it's fitting that the first single be given such an apt name. Taken directly form the Cirklon sequencer pattern that helped design the track Pattern A3 features heavily modulating synths that seems to have a fully organic life of their own set against the typical backdrop of 909 drums.
Following on from Slam's original, Soma have enlisted the help of 3 of the label's favourite contemporary Techno artists. Argentina's Jonas Kopp is first up on remix duties and deliver an absolute pile-driver of a remix with his signature thudding drums and machine-gun like percussion firing rapidly against subtle and stripped synth elements.
Swedish based Bleak is a very welcome addition to this package as he offers his own 'Modular Interpretation'. Heavy sub bass and intelligent drum work outs combine with yet more subtle hints of the original's synth elements to give a more deep and introspective version.
Rounding off the EP is latest Soma artist Charles Fenckler. The young French artist is making waves in Techno at the moment and has certainly delivered on this project, giving his version a much more minimalistic, stripped and ends up with a solid dance floor burner.
*Mastered by Conor Dalton @ Glowcast Mastering