Mastering Gemini Voice Archive:
Mastering Gemini Voice Archive – The Remixes. Soma present an exclusive set of remixes taken from the debut album of the still unknown duo Gemini Voice Archive. The pair have had an incredible journey so far on Soma with huge support across the techno world, made up of DJs & fans alike. The remix EP sees Slam, Inigo Kennedy & Matrixxman select their favourites from the album and give them their own interpretation.
Slam are up first with the space age Framauro's Plains. The Soma label heads quickly and expertly delve head first with a fairly intense remix utilising the original's hook but with more aggression. The maestro, Inigo Kennedy serves up a unique and almost Orchestral version of Singularity. He carves up the original beautifully adding finely tuned soundscapes. Closing out the EP is a more downbeat and dubbed out remix from Matrixxmann. His version of Significant Proportion of The Speed Of Light is a more subtle & atmospheric affair – typical of his style.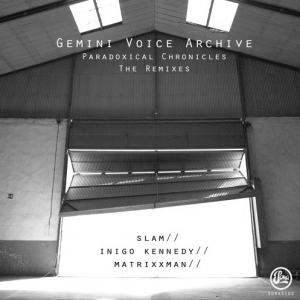 Mastering Gemini Voice Archive at Glowcast Audio Mastering Berlin. Follow Gemini Voice Archive on Facebook to keep up to date with upcoming shows, gigs and releases. Find my latest mastering work in my news section.