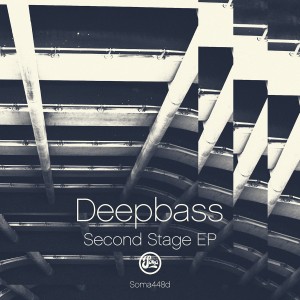 All tracks mastered by Conor Dalton @ Glowcast Mastering
Deepbass | Second Stage
[SOMA448D]
1. Circa
2. Aeon
3. Rails
Glasgow's Deepbass returns to Soma with the follow up to 2015's massively successful debut on the label with the equally trippy Second Stage EP. Deepbass has had a storming end to the year which has seen releases on many fine Techno imprints throughout Europe and a slew of gigs backing too. This new 3 track EP sees the young producer step up his game with deftly made, other-worldly Techno
Circa opens the EP. A surge of pulsating low end becomes the solid groundings as subtly distant percussion comes in waves while the heart of the track, a pure and melodic pad sweep, brings out true depth in the production. Aeon brings a bit more drive to the EP. More straightedge percussion rattles through with Deepbass' subtle synth work sitting perfectly in the background, giving way to the gentlest of drones and sweeps. Rails brings an almost sinister quality to the EP but yet Deepbass manages to keep this reigned in slightly as his usual ethereal vibe permeates this dark and hypnotic affair.
A true purveyor of quality, emotive Deep Techno, the young producer looks to blossom more on Soma with each release.
Whether doused in the grit of his hometown Glasgow, or expanded by the widescreen vistas of his current base, Barcelona, the music of Darren Roberts has asserted it´s uniqueness within his preferred form of expression, rolling and tunneling techno, strong on propulsion and atmosphere.
Naming the project Deepbass was a strong statement of intent and commitment to a sound of his own, from the start. That he has in fact established it and remains on a path of constant perfection of it, is indicative of Darren´s personality and talent.