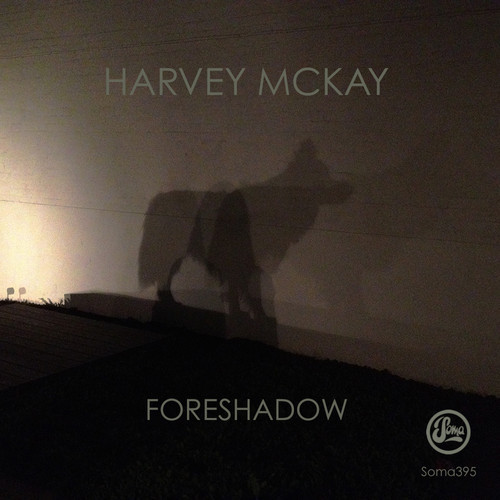 Mastered by Conor Dalton at Glowcast Audio Mastering
Harvey McKay | Foreshadow [SOMA395D]

1. Are You Real
2. Creep
3. Sargon's Birth
4. Sargon's Birth (Frankyeffe Remix)
Soma stalwart Harvey McKay is back with 3 more big room bombs in his Foreshadow EP backed with a thumping Frankyeffe remix. 2013 was one of the biggest in the Glasgow based producers career and some massive releases have helped propel him to the top of the Beatport charts and gained him a huge following throughout the techno community. With his big abrasive kicks and perfectly tuned synths and vocal cuts, Harvey has carved out a unique sound that is instantly recognisable.
Are You Real kicks things off in true Harvey style as a big groove works its way across deep synth hooks and chopped and melodic vocals. Punishing hi-hats and rides really make this track work as Harvey's well-crafted sequence drops and kicks at just the right moments.
Harvey keeps things deep on Creep as a sinister rolling bass line meanders in to a small break pinned together by hypnotic vocals slices and stuttering, skipping percussion. Harvey keeps things looping perfectly and allows this track to build into and absolute monster by the time he hits out with all guns blazing.
Harvey rounds up his offerings on this EP with Sargon's Birth. Another monster bass is funked up with crystal clear grooves and straight in your face, dance floor attitude. Almighty drops are the order of the day and Harvey serves them up by the pound.
Italian producer Frankyeffe take on Sargon's Birth and turns in a big room powerhouse of a track. Keeping in the same vein of Harvey's thumping low end, he pulls the synths out and gives them a real Detroit feel, keeping them short and stabby. This is one for those peak time hours for sure.
Harvey continues his excellent run of form with this EP and shows why he is one of Techno's brightest stars.
Mastered by Conor Dalton at Soma Mastering