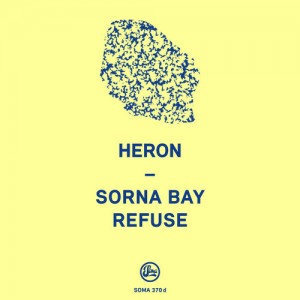 Mastered by Conor Dalton at Glowcast Audio Mastering.
HERON | Sorna Bay
[Soma370d]

1. Sorna Bay
2. Refuse
Heron follows up his fantastic debut on Soma with another well presented EP, 'Sorna Bay'. Heron once again shows his skills as a producer as he easily gives a nod to early 90's Detroit Techno.
'Sorna Bay' reminisces of early Saunderson-era Detroit inspired Techno. Neatly programmed drums sit atop an ice like stab giving way to a funked out bass line. Through the break and again giving a nod to Detroit, Heron expertly brings in a sweeping pad line giving the track fantastic depth. This is a track which shows heron's influences very clearly.
The EP is rounded of perfectly by the deep and introspective 'Refuse'. Heron creates a wonderfully melodic track whilst still having enough of an edge to keep heads bouncing on the floor. An epic pad glides thought the body, guided by skipping percussion and sub bass. More layers of synth are added bringing the tone of the track upwards. This is a well thought out piece that lends itself to early morning after parties as well as those hot summer days!
Heron once again demonstrates his depth as a producer by delivering two very unique and personal tracks.