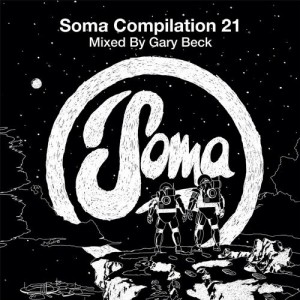 Mastered by Conor Dalton at Glowcast Audio Mastering.
Soma Compilation 21 – Mixed By Gary Beck
[SOMACD103]

1. Deepchord – Tonality Of Night (Spiral 1)
2. Joe Stawarz – M17 (Ambivalent's Byways Remix)
3. Heiko Laux & Steve Rachmad – The Viking
4. Scott Groove feat. Parliament Funkadelic – Mothership Reconnection (VonStroke Energy Patter Remix)
5. Mark Henning – You're Digging Into Me
6. Pig & Dan/Mark Reeve – Origami
7. Mark Reeve – Dice
8. Gary Beck – Algoreal (12" Mix)
9. Alex Under – Addendum
10. Funk D'Void – Diabla (Christian Smith & Wehbba Final Track Of The Night Edit)
11. Silicone Soul – Right On, Right On (Matthias Tanzmann Remix)
12. Envoy – Seawall (Ricardo Villalobos Remix)
13. Soma Compilation 21 Mixed By Gary Beck (Continuous Mix)
Soma Records are pleased to present an extra special compilation of tracks from the last year, mixed exclusively by Gary Beck in what is his first ever commercially available mix CD. After the hugely successful 20th anniversary celebrations, Soma continued with their high quality output right through 2012, forging ahead with new and old artists alike. 2012 saw the debut album from Gary himself that immediately made its mark on the techno world, demonstrating his amazing talent as not just a techno producer but as an artist. Further albums from Deepchord who followed up his first album on Soma with the deep and uniquely expressional 'Sommer' that also spawned 2 separate vinyl releases.
Heavy hitters Pig & Dan showed the versatility of Soma's output also with their own 10 year anniversary album 'Decade' complete with fantastic remixes from Justin Berkovi, Carlo Lio & more. On the singles front, there were some particular standouts. Soma stalwarts Slam & Silicone Soul also released new material that became instant classics in the house & techno world. New signing Mark Reeve burst onto the scene with his Dice EP, Harvey McKay collaborated with Saytek on the tough as you like 'Push EP' and we also saw the Envoy classic, Detroit inspired techno groover, Seawall, reworked by Chilean wonder producer Ricardo Villalobos.
All in all, making it a very tough decision to compile last year's tracks into one CD! Gary's mix is a perfect example of why he has become one of the busiest DJs around. Kicking things off with Deepchord's perfectly dubbed out 'Tonality Of Night", Gary quickly picks up the pace, moving fervently through tracks from Joe Stawarz, Heiko Laux & Steve Rachmad into Claude Von Stroke's excellent mix of Scott Grooves' Mothership Connection. Mark Henning's infectious "You're Digging Into Me' funks things up before launching head first into the peak of the mix with Pig & Dan and Mark Reeve tracks doing the damage along with Gary's own 'Algoreal'. Exclusive to the Soma21 compilation is the Christian Smith & Wehbba remix of the eternal Funk D'Void classic 'Diabla'.
This unforgettable track is given a very modern day rework and doesn't fail to trigger in all the right places. As the mix begins to wind down we find Gary finishing off in epic style with the fantastic Matthias Tanzmann rework of Silicone Soul's 'Right On, Right On'. Closing on Ricardo Villalobos' interpretation of Envoy's 'Seawall'.