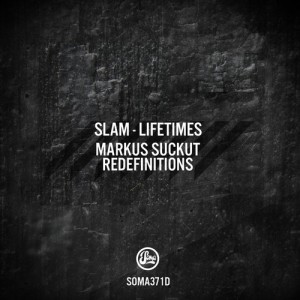 Mastered by Conor Dalton at Glowcast Audio Mastering, Scotland.
SLAM | Lifetimes (Markus Suckut Redefinitions)
[Soma371d]

1. Lifetimes – Markus Suckut Redefinition 1
2. Lifetimes – Markus Suckut Redefinition 2
Slam & Soma deliver two monster remixes from man of the moment Markus Suckut as he redefines 'Lifetimes'. Markus has been on fire since he burst onto the global techno scene a few years back with release on Stroboscopic Artefacts, Figure SPC & his on SCKT label. His stripped back, thumping style has brought him many big name admirers and Soma are proud that he has lent his style to not only one of our favourite Slam tracks but also his.
Redefinition1 of Lifetimes is Markus at his most uncompromising. Thick, layered kicks and sub bass rattle their way through you as stuttered rhythms and metallic drums rise and fall, always with a sense of purpose. This was made for heads down on the dance floor.
Redefinition2 opens up Markus' deeper side. Again, his signature thick low end is sliced open with a shard like high hat, powered with a definite groove. Slowly, a pulsing synth line works it's way into the track, instantly drawing out the more old school vibe of this track. Markus works the arrangement perfectly, drawing out the frequencies and dropping back in to devastating effect.
Markus has certainly provided two vey modern updates to a classic Soma track and these are sure to destroy any dance floor within range.