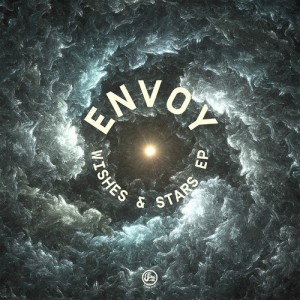 Mastered at Glowcast by Conor Dalton

ENVOY | Wishes & Stars
[Soma373d]

1. Wishes & Stars
2. Aces High
3. Transition 9
One of Soma's finest makes a triumphant return as Hope Grant aka Envoy, releases his first new material in 9 years with the wonderful 'Wishes & Stars'. Recent remixes from Slam & Ricardo Villalobos of classic Envoy tracks, "Dark Manoeuvres" & "Seawall" have paved the way perfectly for this new work which sees Envoy make a grandiose return to the main stage.
Title track 'Wishes & Stars' immediately reminisces to early Envoy. Shimmering synth hooks, indicative of so much of that love of the Detroit found in Soma opens the EP in epic fashion. Big bass, fantastic groove and melody flow through the whole track whilst retaining a deeper edge. This is one epic opener in true Envoy style.
Aces High moves things into darker territories. Pulsing low end rattles forth backed by straight up percussion, simplistic yet effective stabs open and bend allowing the track to loop harmoniously. The foot comes off the pedal momentarily only to allow more sustained synth work to fire this track forward. Eventually reducing in size, Envoy keeps the momentum perfectly making this one the perfect techno tool.
The EP is rounded off by the hard-hitting 'Transition 9' that while seeming relentless from the get go, opens gently into a superbly crafted modern techno track. Powerful drums sear through with a gently filtered bass skipping alongside a tweeked out melody that flickers through the lead just enough to give this track some funk. Another epic Envoy, this track certainly finishes on a flourish.
We're over the moon with this new EP from one who helped define the Soma sound and look forward to a continued run from the amazing Envoy.