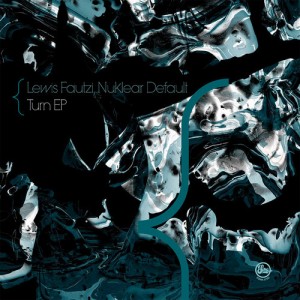 Lewis Fautzi, Nuklear Default | Turn
[Soma375d]

1. Turn
2. Anti-Cake
3. Sinister
4. Point
Mastered by Conor Dalton at Glowcast.
Soma welcome another name to its ever-growing roster in the form of Portuguese producer Lewis Fautzi who teams up with his own alias, Nuklear Default, to bring home 4 dark techno stompers. A main stay on the Portuguese techno scene, Lewis has been producing for some time now and his own brand of pulsing rhythms has earned him many fans throughout the techno community.
Title track 'Turn' launches this ep skywards with a ripping bass line that will tear speakers apart. Unrelenting drums whisk through you with peak time intensity as this powerful opener sears with non-stop energy.
Things take a deeper turn with 'Anti-Cake' as a slightly more subdued beat slowly filters in with hypnotic drums patterns and synths swirling calmly before bursting the track wide open. Only a short break in the track allows the listener a little respite as the deep sub bass bounces back in and the track continues to move at quite a pace.
'Sinister' is exactly what the name suggests. A dark, pulsing low end creeps around the base of this track while more rattling percussion keeps the momentum going. This is the perfect DJ tool that keeps its energy throughout.
'Point' closes the EP with an old school sound. Delayed synths filter in an out atop a rolling bass line and perfectly programmed drums. The synth hook tweeks over into the break giving way to an effective dance floor track.
This is a fantastic Soma debut from a young producer who surely has a bright future ahead of him.