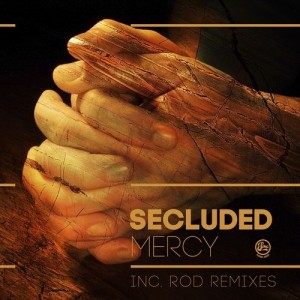 Secluded | Mercy
[SOMA380d]

1. Mercy
2. Pastures
3. Mercy (ROD Remix One)
4. Mercy (ROD Remix Two)
Mastered at Glowcast by Conor Dalton.
Soma welcome Glasgow based DJ/producer Secluded aka Hans Bouffmyhre to the label as he debuts with us with his fantastic Mercy EP. Hans has become quite the force in the underground techno scene over the last few years with releases on the likes of Electric Deluxe and, of course, his own Sleaze imprint. With Soma, he brings out his Secluded alias which strips things back with the aim to explore a new techno vibe, inspired by sounds from Berlin & Detroit. Secluded productions are characterised with a deep pounding beat, softened by dubby synth passages and deep soundscapes, creating a gloomy atmosphere. Also appearing on the EP are two peak time Remixes from ROD.
Title track Mercy opens the EP with an old school chord driving this monster from Secluded. Backed perfectly with on point percussion and a quite healthy kick drum, this track certainly sets the tone for the EP
Pastures takes things on a suitably deeper turn. With a pulsing sub bass rattling through you and a resonated synth line that eerily creeps in, taking the track upwards. Simple yet effect drums work this track straight onto the dance floor as Secluded created a perfect peak time Techno workout.
After his fantastic reworks of Slams Positive Education, ROD is back to bring his unique, old school, jackin' take on Secluded's Mercy. Remix One uses the original chord filtered & processed as 909 drums punch in and out to devastating effect. Remix Two loops out the chord sample making this a more hypnotic, looped out jackin techno number.