Nur Jaber and Glowcast Audio Mastering Berlin:
Some Berliners may already be familiar with Nur Jaber. The Lebanese DJ and producer is a resident of Staub, the monthly gathering at ://about blank. She's also an advocate for techno in her hometown, Beirut, where she helped set up the first club of its kind, Gate 9, last year. OSF (On S'en Fout, meaning We Don't Care) is her record label, which she runs with her sister Yasmine Jaber, a designer and visual artist. So far Jaber has mostly used the platform to push her own music, which has gotten more experimental over time. In March she released her first 12-inch proper, MONA, a three-track EP of emotive yet driving techno featuring her own vocals. Weapons Of Mass Destruction is the battle-ready follow up.
With a title like "War Pigs" you can guess what you're in for. Jaber snarls and makes animalistic noises over a monstrous kick that makes you want to snarl, too. But this isn't some heedless warehouse banger, because there's more to it than that. There's a midsection with a tingling synth line and spacey blips, and it never quite gives into the rave. The title track, on the other hand, aims to destroy the dance floor. Jaber's vocals are less prominent, just a few chilling howls in the opening, after which the sampled hook and furious 909 and 303 sounds drive this romper to its ravey demise. "They Want You Dead (War Pigs Edit)" finds a frightening sweet spot between noise—there's some Pharmakon banshee-style screeching in there—and hard techno. It might not provoke a dance but it will stir up something. Watch out for Nur Jaber.
Tracklist:
A1 – Weapons Of Mass Destruction
A2 – War Pigs
B1 – They Want You Dead (War Pigs Edit)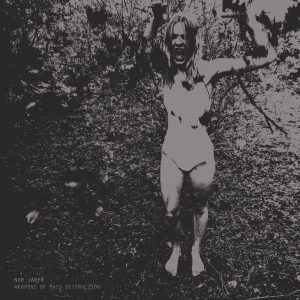 Released in August 2017 – catch Nur Jaber playing in Denmark, France and Germany soon or follow her on Facebook. Feel free to leave a like on my Facebook page as well to stay up to date or head over to my news section
Mastered by Conor Dalton @ Glowcast Audio