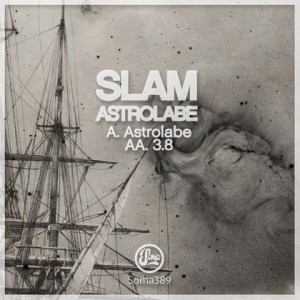 Coming out on Beatport: 11/11/13
SLAM | Astrolabe
[Soma389]
1. Astrolabe
2. 3.8
Mastered by Conor Dalton at Glowcast Audio Mastering.
Soma is pleased to welcome back label heads Slam as they unleash 2 brand new tracks under the EP,ASTROLABE. In the past two decades, Slam have defined techno in Scotland, cultivated many artists of through Soma and remixed everyone from Josh Wink & Paul Ritch to Daft Punk & Underworld. The legendary UK duo, comprising of Stuart McMillan and Orde Meikle, have travelled far and wide, leaving scorch marks on dance-floors across the planet, touring Europe, Australia, the USA, South America and Asia. They hold residencies at 3 of the UK's best clubs (Pressure & Sub Club in their home town of Glasgow and Fabric in London). Slam are currently on top of their game at the moment as they work toward the release of their new album, due in 2014 and this latest EP from the prolific Scottish duo shows they intend to keep up their furious momentum
Astrolabe opens up the EP in true Slam style. A rolling, arpeggiated hook keeps the listener hypnotised by the rhythm and straight up percussion backs things up as this full on dance floor destroyer teases with every drop. Perfectly crafted and sequenced, Slam really show their experience on this track.
3.8 moves things into an even harder direction. Once again, a hypnotising hook keeps things moving while a thunderous low end and distorted percussion crashes through, relenting momentarily while a resonating kick pulses and finally gives way to the body of the track. A fairly harder edged track, Slam easily manipulate each element of it to devastating effect.
Slam hit home hard with this excellent two tracker that has been doing the damage for them in their most recent sets and looks to do the same the world over.