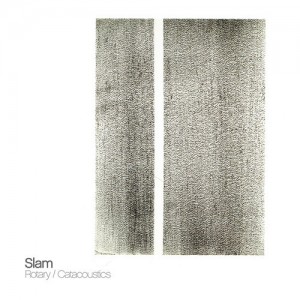 Order vinyl:
Buy it digitally:
SLAM | Rotary/Catacoustics
[SOMA400]
1. Rotary
2. Catacoustics
In what is a momentous occasion for Soma Records, we hit the milestone 400th release of the label and who better to see this in than label heads SLAM as they lead up to their new album due to drop this October. Soma are proud to present the double A sided Rotary/Catacoustics. Slam have been locked away in the studio these past months working hard on their latest album which sees them look to past machines and new technologies to form the base of this new album. These album sessions have spawned two raucous tracks that state where the veteran producers are with their sound. These tracks have the dance floor firmly in mind and display the years of experience Slam have in knowing what exactly will whip up a storm.
Rotary opens the EP with a definite analogue rawness as a storming synth hook leads the track from the offset. Keeping it stripped back the boys allow the hook to bend and evolve over the course of the track, reminiscent of early Hood-esq minimalism. Straight up percussion backs the track and keeps the groove true to Techno.
Catacoustics takes things down a deeper route as low subs rumble while a nicely delayed bell tone reverberates gently in the background giving depth to the track. Strung out percussion flutters in the back as subtle time stretch is applied giving this a trippy and mind melting feel. Slam pull back on the reigns ever so slightly going into the break as yet more subtle builds give tension before firing back with the hypnotic feel essence of the track
Soma400 signals the start of the countdown to the latest Slam album and also shows why they have been in electronic music for over 20 years.
*All tracks mastered by Conor Dalton @ Glowcast Mastering