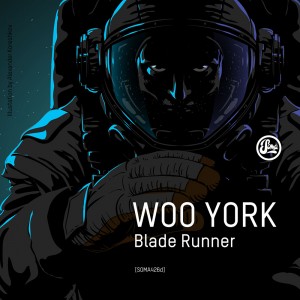 Woo York | Blade Runner (inc Zadig Remix)
[SOMA426]
*All tracks mastered by Conor Dalton @ Glowcast Mastering
1. Blade Runner
2. Phantom
3. Blade Runner (Zadig Remix)
Ukrainian duo Woo York mark their 5th release on Soma Records with the pulsing Blade Runner, backed by an incredible Zadig remix. The boys have made a welcome home on Soma Records as the continue to push their raw analogue sound upon the world.
Title track Blade Runner has all the hallmarks of a Woo York production. Uniquely structured sequences quickly give way to a straight up Techno groove. Subtly dubbed drums and sweeps compliment the ever evolving tonal aspects of the track allowing for greater depth.
Phantom comes out fighting as a well produced haunting effort from Woo York. Building gently, perfectly weighted drums are set to a rising dark of synth swells and pulses.
French Techno wizard Zadig steps up with a monster remix of Blade Runner to close out the EP. A Mills-esq 909 beat, enchanted pads and a subtle use of the originals sequences are drawn out by the Paris based producers as quick firing drum patterns roll out over a deftly crafted soundscape.
A masterful EP from Woo York once again and one that sits perfectly within Soma's realms