Mastering Berlin:
Soma25 continues by bringing you a quite unique remix package, this time featuring Architectural, Luke Slater & Scuba – support by mastering Berlin Studio Glowcast Audio. Funk D'Void's 'Magnolia', originally appearing on his 2001 album 'Dos' is re-created by the bold and dynamic sound of Architectural. UK Techno veteran, Luke Slater, turns his expect hand to Slam' Visual Capture – taken from 2014's eclectic LP, Reverse Proceed. Finally, Scuba delivers his take on the Universal Principles hit, 'Flyin' High'
Tracklist:
1. Funk D'void – Magnolia (Architectural Remix)
2. Slam – Visual Capture (Luke Slater Remix)
3. Universal Principles – Flyin High (Scuba's Illicit Surveillance Mix)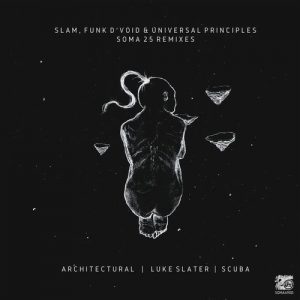 Released in May 2017 on Soma Records
Mastered by Conor Dalton @ Glowcast Audio. If you would like to find out more about my mastering services please follow this link.