Mastering Mote-Evolver:
Mastering Mote-Evolver in Berlin. The two UK techno pioneers Ø [Phase] and Luke Slater collaborate as Roog Unit for their first EP called 'Mesh' which I mastered. Support with Mastering Berlin from Glowcast Audio and Conor Dalton. You can catch Ø [Phase] playing in Switzerland soon. He will also be playing at the mighty Berghain in April before he is heading to the United States. UK artist Luke Slater, who is also known as Planetary Assault Systems is playing in Belgium and Switzerland soon.
Tracklist:
A1 – Mesh
A2 – Bugeye
B – The Chains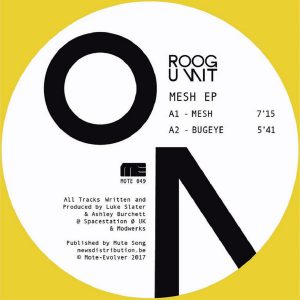 Mesh was released in June 2017 on Mote-Evolver. Find  the artists on Facebook.
Mastered by Conor Dalton @ Glowcast Audio – if you would like to get in touch simply drop us a message and we are happy to help you