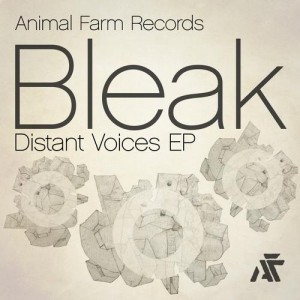 RELEASE DATE 2013-03-05
LABEL Animal Farm Records
CATALOG # AFR001
Pre-order the 12″ here.
Remixes mastered by Conor Dalton at Glowcast Audio Mastering.
Animal Farm Records is based in Glasgow & curated by founders Quail, Lamb & Turtle. Since they formed as a DJ collective 8 years ago, they have spread quickly through the Scottish scene establishing themselves as one of the biggest Techno parties in the country, residing in Glasgow's world famous Sub Club.
Animal Farm have now re focused their time and effort in to a new venture which sees them looking to push their sound & passion for techno to a wider audience. With a string of release already in the pipeline from not only themselves but people who they have played alongside and who have inspired them along the way.
First up for AFR is Swedish based producer & DJ – BLEAK. After discovering Bleak back in 2011 we have kept a close eye on how he has developed as an artist and when putting together our first EP we couldn't think of anyone better than him to represent us. A sought after DJ, he recently helped launch the label in Glasgow to a resounding success with a mixture of live and DJ set.
His 'Distant Voice Ep' states his and our intentions clearly. Lead track 'Synonym' kicks of straight away with a deep and powerful kick drum, the track is populated with a growing acid baseline and neatly placed pad lines which builds eventually unleashing the full potential of the track.
B side 'Mynonys' picks up perfectly from the EPs opener. Dropping things down a notch, this is definitely one for the deeper end of the spectrum. Another fat, bouncing baseline is stapled together with straight up drums and a slicing stab which open and closes, evolving through the track.
Glasgow based producer Deepbass takes up the reigns of remixing 'Synonym' with his dark, hypnotic & brooding style while Animal Farm step up with their offerings of 'Mynonys' also, closing the EP of with hard hitting interpretations.