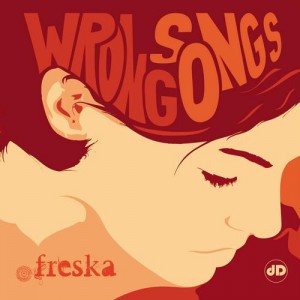 RELEASE DATE 2013-05-13
LABELS Darkroom Dubs
CATALOG # DRDA001
Silicone Soul have lined up a succession of exciting releases to mark ten years since their subterranean parallel project and label, Darkroom Dubs first unleashed its uniquely idiosyncratic take on house music. Having caused supersonic ripples throughout the underground dance community since his debut release on Darkroom Dubs first hit the shelves in 2007, Evgeny Bukreev (AKA Freska) is about to drop his long-awaited debut album. "Wrong Songs" more than lives up to the promise of the singles and EPs which preceded it, uncurling in a heady blend of booming electronic funk, startling sonic weaving with innate sense of melody, swirlingly spectral in the dense aural meteor showers of vocal shards and sublimely orchestrated mutations of disparate musical ingredients.
Now relocated to Moscow, the Murmansk born producer has mentioned being influenced by Kraftwerk, Black Sabbath and the music of his native Russia, but anything from the percussive attack of early acid house and Detroit techno also pitch in to what he astutely describes as `rhythm and soul'. Appearing also on labels such as Stil Vor Talent, Karate Musik, Manual, Azuli, Lo and Traum Schallplaten [for whom he was asked to remix Minilogue, and didn`t disappoint]. The album blends versions of singles released on Silicone Soul's decade spanning, future-pointing electronic vision Darkroom Dubs, including the buzzed-up judder of "North And South" and sexed-up robo-funk of "Slow Cold Slow" [plus symphonic jazz-tinged flip "Honey from Within" with a flotilla of new outings, including the heaving bass-monster of "Breathing In", booming rattlesnake hump of "Lo Lo Love" and the ghostly "Doves On My Window".
Then there's the panting "Ink In", rinky-dink organ carnage of "Some Turns Inside" and weird chorale-draped "Stoned Bytes" ending in the vocal-layered finale "The Kathedral" hinting to another exciting new direction. Last year Freska also remixed Silicone Soul's "David Vincent's Blues", as part of their esteemed Soma 20 Remix collection. One listen to this astonishing debut album leaves no doubt that these twin career peaks are only the beginning for the man from Murmansk.
Mastered at Glowcast Audio Mastering in Glasgow by mastering engineer Conor Dalton.