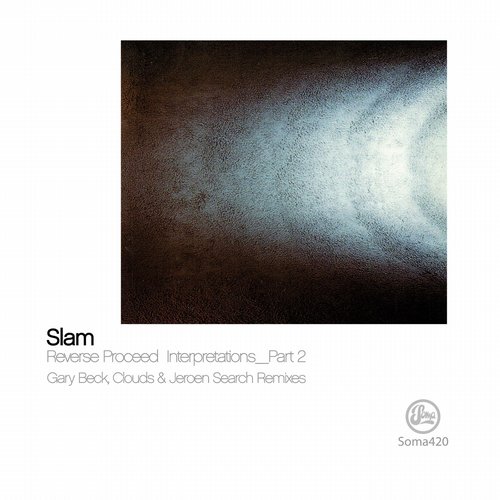 Slam | Reverse Proceed Interpretations Part 2
Gary Beck, Clouds & Jeroen Search Remixes
[SOMA420]

1. Slam – Catacoustics (Gary Beck Remix)
2. Slam – Resolved (Clouds Remix)
3. Slam – Cirklon Bells (Jeroen Search Remix)
The second installment of re Interpretations form Slam's latest, critically acclaimed album Reverse Proceed sees Soma look to yet more highly regarded Techno artists to provide their reimagining's of their favourite tracks from Reverse Proceed. Long time Soma collaborator Gary Beck makes a welcome return to the label alongside fellow Scottish upstarts Clouds and finally Dutch Techno wizard, Jeroen Search. Each brings their inimitable style to the project.
Gary Beck steps up first with his take on Catacoustics. His fiery brand of looped out Techno take the already tough Catacoustics into another realm. Gary comes out, all guns blazing using the original hook to great effect as it trips out over his ferocious kicks, thundering percussion and powerful dance floor groove.
Not shy of a fierce remix, the Clouds twosome give Resolved a thorough going over. One of the more ambient tracks from Reverse Proceed, the beatless, breathtaking original is well and truly given a proper workout by the young Scottish producers. Filtered, shaking percussion leads us into the analogue warmth of the Resolved pads. This light start rapidly gives way to a full on assault of rhythmic destruction as Clouds turn in a serious weapons grade Techno track.
The influential figure of Jeroen Search closes off this EP in fine form with his version of Cirklon Bells. Widely regarded as a true innovator in Techno, Jeroen shows off his skills with this remix as he powers in with a straight out 909 workout infused with hypnotic synth hooks. Given the live treatment, Jeroen is able to keep things exciting with the remix and easily pulls out a highly addictive remix.
*All tracks mastered by Conor Dalton @ Glowcast Mastering