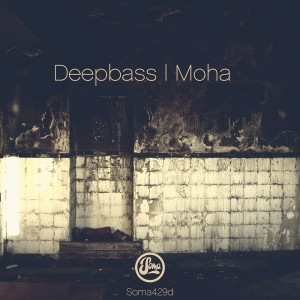 Deepbass | Moha
[SOMA429D]

1. Deepbass – Moha
2. Deepbass – Dune
Soma add another Glasgow based artist to the roster in the form of young talent Deepbass. After a string of successful releases on his own Informa Records, Soma welcomes his sub aquatic sounds into the fold. Deepbass definitely brings his own unique sound to the label and kicks off his account with two bass driven, deep Techno killers.
Title track Moha starts the EP off in typical Deepbass fashion. A solid foundation is built from the start as Deepbass gradually introduces each element of the track slowly. Swirling, dubbed out percussion floats by as hypnotic synth elements are padded out with eloquently phrased pads that glide through the background. Deepbass excels in creating a real sense of tension throughout his music and Moha is a great example of this.
Dune follows up perfectly from the opener. Subtle percussion and dream like pads, just thought out enough to become reality, gently straddle another venture into heavy sub bass territory. Faint touches on delay and reverb space the track out even more as Deepbass lets this loop out to help give a sense of direction and purpose to the overall track.
Deepbass is certainly one who has been working hard in the background of the Techno scene for some time now and Soma are proud to add him to the list of home based talent on the label.
*All tracks mastered by Conor Dalton @ Glowcast Mastering