About:
I had the pleasure of mastering Percy X remixes on the Soma 25 remix singles with this superb revisit of the Percy X classic by three of our favourite producers here at Soma; Christian Wünsch, Vril & Lewis Fautzi. Each artist certainly brings their own unique style to their remixes and bring this timeless Techno classic into the modern age.
Christian Wünsch makes his second appearance on the Soma25 remix stage after his thumping version of Funk D'Void. With this remix, however, he takes things on a decidedly deeper tip, utilising the originals distinctive stab against the back drop of his sub heavy beats. The ever mysterious Vril also delivers his second contribution to the Soma25 project with a more pumped up remix of X Track. Turning in a real journey, the German producers really works the dubby vibes working in some very nice ethereal pads over a a fairly quick tempo'd track. Closing out this remix EP is the ever reliable Lewis Fautzi. His interpretation see a more dark, broken beat affair, opting to utilise the original's string to create a whole new atmosphere altogether.
Soma25 starts to properly up the pace with this release with more still to come from this exciting project.
Tracklist:
1. Percy X – X Track – Christian Wünsch Remix
2. Percy X – X Track – Vril Remix
3. Percy X – X Track – Lewis Fautzi Remix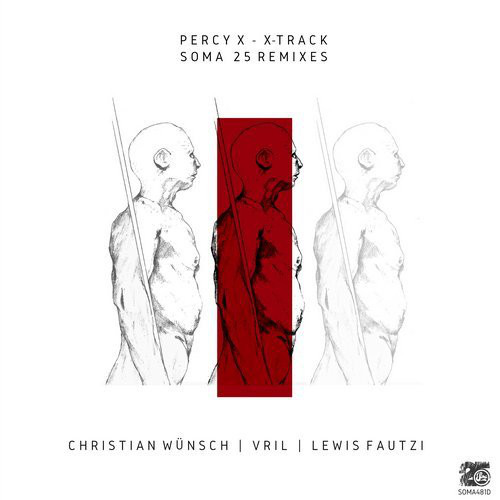 Mastering Percy X by Conor Dalton @ Glowcast Audio. Head over to the news section for further information on the projects I worked on